I have a 2015 CTX700 now, so don't ride this any longer.
Wonderful touring bike, if you want something bigger and heavier than a CTX700.
New battery installed 9/1/18 and carbs cleaned (because I didn't start it for 14 months, and it then wouldn't idle unless 3/4 choked...)
INCLUDES:
Heli Bars
Heated grips (high/low temps)
Oversized windscreen
Adjustable-pull clutch lever
drop pegs
handlebar mounted mirrors + built-ins
wired power distribution box under seat
Mechanical (Vista) cruise control
Lightweight full size cover
Clymer manual
$85 worth of color-matched touch-up paints
Custom Saddle by Rick Mayer for me (I'm 5'9" 175#)
-- Only 1,700 miles since:
New tires
Gear oil change
Inspect rear spline
Rear brake pads
Brake fluid change
(Timing belt done at 39,876 by previous owner)
Has some nicks and scratches (one long scratch on left side pannier but pic shows it isn't blatant).
I bought touch-up paint (base+primer+color), but haven't done it. Comes with the bike.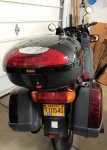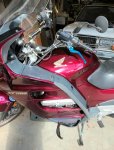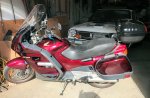 Last edited: